Regular current affairs viable of 25th and 26th April 2021. – Here is the Regular current affairs viable of 25th and 26th April 2021. covering the following news headlines: World Intellectual Property Day, SVAMITVA scheme, VARUNA, Vivad se Vishwas, National Panchayat Awards 2021.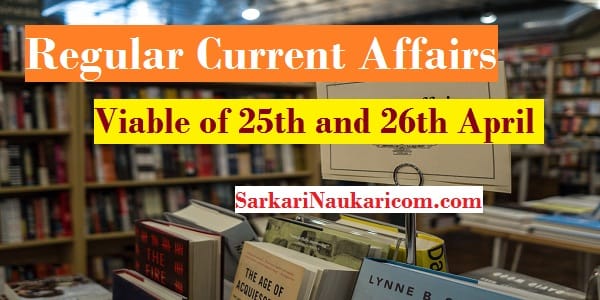 Daily current affairs update are incorporated with the important news that made the current affairs headlines for competitive exams. Daily Current Affairs Update is the complete box of the important news that held all day long. One should have complete knowledge about banking terms, current affairs news, etc.
So, here is the GK update of 25th and 26th April 2021 to help you prepare the Current affairs part. After reading this section, you can successfully attempt current affairs quiz.
Here current affairs have been categorized which is as follows:-
National News
Defence News
Schemes and Committees News
Appointments News
Awards News
Banking News
Obituaries News
Important Days
National News
PM Modi Launches Extension of 'SVAMITVA scheme' Across India
Prime Minister Narendra Modi has started the distribution of e-property cards under the proprietary scheme (SVAMITVA scheme) through video conferencing on the occasion of National Panchayati Raj Day on 24 April 2021.
Survey of villages and mapping with improved technology in SVAMITVA or village areas.
The event was carried out to mark the rollout of the implementation of the SVAMITVA scheme across the country.
During the event, about 4.09 lakh property owners were given their e-property cards in more than 5 thousand villages.
The ownership plan was launched by the Prime Minister as a central scheme on 24 April 2020 to promote a socio-economically empowered and self-reliant rural India.
It was launched on a pilot basis in 6 states, Maharashtra, Karnataka, Haryana, Uttar Pradesh, Uttarakhand, Madhya Pradesh.
Defence News
19th India-Franch Naval Exercise "VARUNA" begins
The 19th edition of 'Varun-2021', a two-way exercise between the Indian and French Navy, will be held in the Arabian Sea from 25 to 27 April 2021.
During this three-day exercise, contingents of both navies will conduct high-speed naval operations at sea, including advanced air defense and anti-submarine exercises, rapid fixed and rotary wing flying operations, tactical maneuvers, surface and anti-air weapons. Will include running, replenishment and other maritime security operations.
The Indian Navy will take part with its Guided-Missile Stealth Destroyer INS Kolkata, Guided-Missile Frigates INS Tarkesh and INS Talwar, Fleet Support Ship INS Deepak, Seaking 42B and Chetelle Integral Helicopters, Calvary Class Submarine and P8I Long Range Maritime Patrol Aircraft.
A carrier with the French Navy aircraft carrier Charles-de-Gaulle, Rafael-M fighter, E2C Hawkeye aircraft and helicopter Caïman M and Dupin, Horizon-class air defense destroyer Chevalier Paul, Aquitaine-class multi-mission frigate FNS Provence M helicopters and command and supply ships will take part.
Schemes and Committees News
Government Extends 'Vivad se Vishwas' scheme Deadline till 30 June 2021
The Central Government has extended the deadline for payment under the Direct Tax Dispute Settlement Scheme 'Dispute to Confidence' by two months till June 30, 2021 to ease the taxpayers facing a lot of hardship due to the Covid-19 epidemic, Has announced to do.
This is the fourth time since the inception of the scheme when the deadline is being extended by the Finance Ministry.
The deadline was first extended from March 31, 2020 to June 30, 2020, followed by December 31, 2020 and then to March 31, 2021.
Appointments News
Justice Nuthalapati Venkata Ramana takes oath as 48th CJI
Justice Nathalapathy Venkat Raman took over as the 48th Chief Justice of India (CJI) on April 24, 2021. President Ram Nath Kovind administered the oath of office to President Ram Nath Kovind in a brief ceremony held at Rashtrapati Bhavan.
He succeeds Justice Sharad Arvind Bobde, whose term ends on April 23, 2021.
Justice Ramana will serve as the Chief Justice till 26 August 2022.
Awards News
National Panchayat Awards 2021
The National Panchayat Award 2021 was conferred by PM Modi. The Prime Minister will through a click of a button pay Rs.5 lakh to Rs.50 lakhs Transfer of prize money (in the form of grant).
This is being done for the first time that this amount will be transferred directly to the bank account of the concerned panchayats in time.
The National Panchayat Awards 2021 are being conferred under the following categories:
Deen Dayal Upadhyay Panchayat Sashaktikaran Puraskar to 224 panchayats,
Panchayat Development Plan Award to 29-gram panchayats, Child-friendly Gram
Nanaji Deshmukh Rashtriya Gaurav Gram Sabha Puraskar to 30-gram panchayats, Gram
Panchayat Award to 30 Gram Panchayats and e-Panchayat Puraskar to 12 states.
Banking News
RBI cancels licence of Bhagyodaya Friends Urban Co-operative Bank
The Reserve Bank of India (RBI) has canceled the license of Maharashtra-based Bhagyodaya Friends Urban Co-operative Bank Limited due to insufficient capital.
Upon determination, every depositor is entitled to receive a claim insurance claim from the DICGC up to a monetary limit of Rs 5 lakh subject to the provisions of the DICGC Act, 1961.
According to the motion manager, banks are ineligible to pay their current depositors in full due to their current financial situation and if the bank is allowed to further expand its banking business further, the public interest will be completely affected.
Obituaries News
Supreme Court judge MM Shantanagoudar passes away
Supreme Court Judge Justice Mohan M. Shantanagoudar died.
Justice Shantanagoudar was elevated as a judge of the Supreme Court on 17 February 2017. He will hold his post till 5 May 2023.
Important Days
World Malaria Day: 25 April
Every year on 25 April, World Malaria Day (WMD) is celebrated all over the world to mark the efforts being made by people all over the world to control malaria.
The day was initiated by the WHO's decision-making body in May 2007 at the 60th session of the World Health Assembly.
The theme of World Malaria Day 2021 is 'Reaching the zero malaria target'.
World Malaria Day began as Africa Malaria Day, which was first celebrated in 2008. This is an opportunity to make people generally aware of malaria, which has been celebrated since the year 2001 by African governments.
They worked with the goal of progress aimed at controlling malaria and reducing its mortality in African countries.
International Chernobyl Disaster Remembrance Day
Every year on 26 April, International Chernobyl Disaster Remembrance Day means International Chernobyl Disaster Remembrance Day to raise awareness about the consequences of the 1986 Chernobyl disaster and the dangers of nuclear power.
The day was declared by the United Nations (UN) on 26 April 2016, the 30th anniversary of the 1986 nuclear disaster.
On this day in 1986, a reactor exploded at the Chernobyl nuclear power plant in Ukraine with disastrous results.
World Intellectual Property Day: 26 April
Every year on 26 April, World Intellectual Property Day means World Intellectual Property Day is celebrated globally. The day was launched by the World Intellectual Property Organization in the year 2000 to "spread awareness about the role of intellectual property rights patents, copyrights, trademarks and designs in promoting innovation and creativity and the development of society by the creators on the life of every day" Was made to promote the contribution made to the project.
The announcement by WIPO to celebrate World Intellectual Property Day on 26 April was made in 1970 to mark the Convention for the establishment of the World Intellectual Property Organization.
Hope you Like this Current Affairs news Please Like and Share it.