Full Information about FAU-G Game – Hello friends, I welcome you all in this article of Pinki Yadav today. Today's topic of mine is about FAU-G Games. So let's know what is a FAU-G Game? And its full story, features, about developers team, how user likes, how this game can impact on Indian gamers, etc. So let's get started ….
Complete information about FAUG Games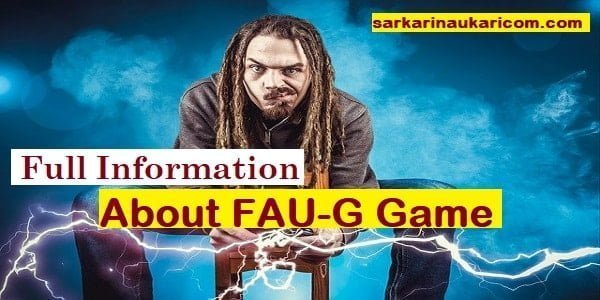 117 Chinese mobile apps were banned under the Vocal Local Campaign by our respected Prime Minister. One of them was the app PUBG Game, which was very popular among the youth of India. Keeping in mind that popularity, a game has been created that can replace PUBG.
Read More:- Tips To Make Better Decisions For Your Business
Two mobile apps Tik-Tok and PUBG were very popular among the youth of India. Both are banned by the Indian government for being Chinese apps. Tiktok was likewise a little disputed app. But PUBG had entered the heart of every youth across the country and had become a part of his life. Many people are very disappointed because of the ban on PUBG. But like this game, it's coming in Indian form is a FAU-G game.
You all must have thought that who is developing a military game in India? So the answer is that a company from Bangalore called nCore Games is developing military games under the guidance of Bollywood actor Akshay Kumar? And the game has been in production since May and June. It has been said by the game's creator and Akshay Kumar that this game will be beneficial for our soldiers.
You may be wondering how a military game is going to help our soldiers? 20% of whatever will be earned from the military game will be donated to the "Veer Trust of India" which was created after the Pulwama attack 2019, which will support the families of the martyrs of the country. In this way, the military game will help our soldiers.
Now let's see what will be seen in a military game. In this, players will learn about the sacrifice of our soldiers along with playing. The first level of this game is set from the backdrop of "Galavan Valley". The game is based on the actual conditions that our soldiers face during every battle. It is being constructed in India and hence it will have an Indian style.
What is a FAUG game:
In the present day, 117 APP of China was banned due to some mutual cases between India and China. These 117 apps included a PUBG game. PUBG was the most popular and played gaming app worldwide.
A gaming app of its own has been created in India, named as FAUG Game. It is also being said that the military game will be an alternative to the PUBG game.
We can play military games online just like PUBG. We can add it to our friends and play with them, this is a multiplayer action game. It will have all the features that used to be in PUBG, the biggest and the best part of this game is that 20% of the earnings from this game will be donated to Veer Trust. In the same way, our Indian soldiers will get very good support.
What are the features of FAUG games:
In the FAUG game, you will get all the features that you used to get in the game of PUBG. The features found in a military game are described below.
You will get good quality graphics in this game.
You can get HD quality and Ultra HD quality in military games.
In the setting of this game, you can find controller, sensitivity, basic setting, language setting etc.
You will also get the option of map setting in this game, by which you will be able to change your map and play the game just like PUBG.
In this game, apart from all these settings and graphics, you will also get the option of character settings, from where you can change your character.
Apart from all these, you will also get the option to check your profile ID, from where you will be able to check your profile ID.
The map of this game will show the area of ​​the Indian Army, where the Indian mission will also be placed.
Full-Form of FAUG game:
Just as the full-form player of the PUBG game app was an player unknown battleground, similarly the FAUG game has a full form, which is described below.
F- Fearless
A- And
U- United
G-Guard
Who is the creator of FAUG games?
The military game is being made through the farm company nCore Game in Bangalore country of India. This game is being made solely for the Indian people. Actor Akshay Kumar has the biggest contribution in making this game, it is being made by superstar Akshay Kumar.
He tweeted on his Twitter account that the game is being developed for the people of India and 20% of the proceeds will be donated to the Veer Trust of the Indian Army. We request those people who play games, not to play foreign games, to play Indian games, because if we play foreign games, then whatever money is earned goes to the foreign company.
When is a FAUG game being launched in India?
The launch date of this game is not yet stated by the company. But the game is anticipated to be launched by the last week of October. It will be made available on the Google Play Store and other Internet downloading apps by the last week of October. We can also do a FAUG game as an Indian PUBG game because this game is an alternative to PUBG.
Download FAUG games:
If you want to download a FAUG game, then you will get this game for free download on Google Play Store. However, the game has not been launched yet and preparations are on for its mega promotion. You can download the game from the Play Store as soon as the game is launched.
Friends, if you liked this article of mine today, please do like and share it.
Full Information about FAU-G Game
Read More:-